Google Sites is exactly what you're thinking of, it's a website builder managed by Google. If you're using other website platforms, like Wix and WordPress, then this is something similar. In this blog, we're here to guide you on how to add a chat in Google Sites.
If you're already using Google's products like Docs, Spreadsheets, Drive, and more, then you can add Google Sites to your list of tools. This will be great for your business.
This blog not only teaches you how to embed but also how to create your own Google Site.
Making Use of Google Sites
The advantage of Google Sites is that you can make a website in just minutes and without even having to know to code it yourself. In addition, another advantage is you can allow other Google users to edit your website, which makes it great for teams.
Like Wix and WordPress, Google Sites lets you make use of its site-builder features, such as themes. You can design your website any way you want it to. Add elements like calendars, spreadsheets, maps, etc. This makes it more functional and user-friendly. It all depends on how you want your site to look like (for example, professional or laid-back).
You need to have an account on Google to use Google Sites. So, if you don't have one, you'll be asked to create one before you can proceed on setting up your Google Site. Then, you'll be able to choose your own domain or purchase a new one.
Can I embed on Google Sites?
A commonly asked question when using Google Sites is: Is embedding allowed in Google Sites?
Great question. Well, as you know, Google Sites is a continuously improving platform. In its first release, Google Sites did not allow embedding. But now, you can embed almost anything. From images to videos, and even chats, you can embed it on any page on your site.
All you need to do is create your own Google Site first. First, you will need to sign up on Google before you can create your Google Site. To do that, just go to google.com and click "Sign In" in the top right corner. Instead of signing in, choose "Create account." Type your email and your password. You now have your own Google account and you can now proceed with the next step.
Creating your own Google Site
The steps to create a Google Site are easy. As long as you have your own account on Google, all you need to do is sign in. Here's a quick guide for you.
Set-up your Google Site
Sign in to Google Sites with your Google account.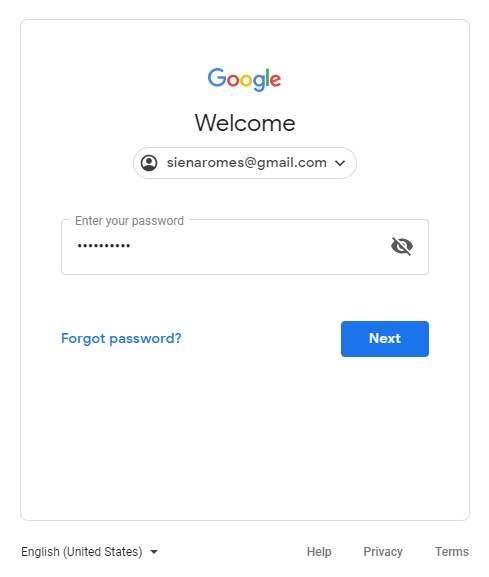 Click the "+" button on the lower right corner.
You will be redirected to your own Google Site. Design and customize it any way you want!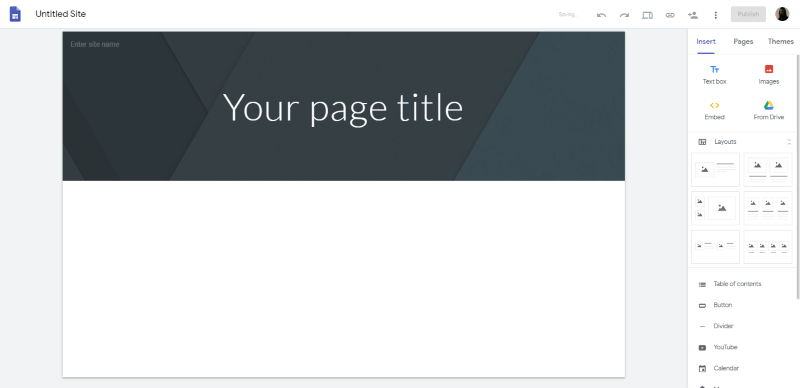 With this, you can now start creating your own Google Site. You can add pages, images, and even customize your own headers. Choose what fits your site best.
Adding a chat in Google Sites
To allow your site followers to connect with you, you'll most likely need a chat. Embedding a chat in Google Sites is easy. All you need is your HTML code and you can paste it on your website. In the following, we will show you a quick overview of how to add a chat in Google Sites.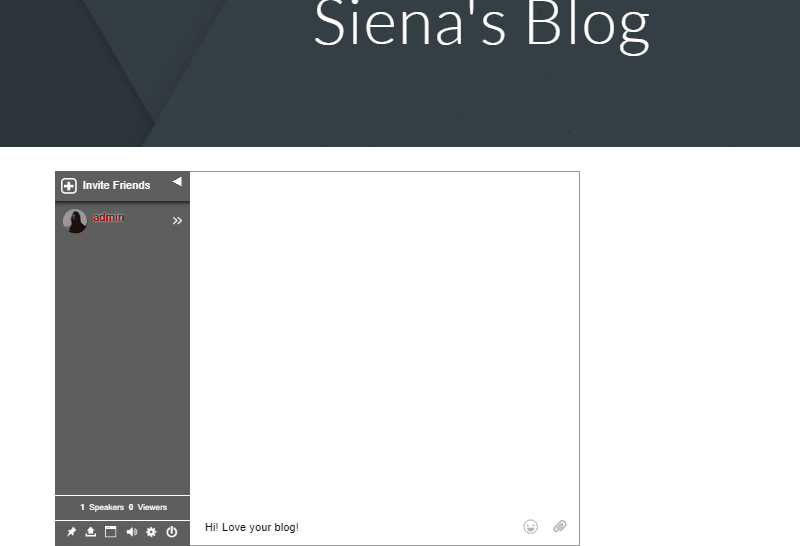 Embedding RumbleTalk group chat in Google Sites
In this part, we will show you a guide on how you can add a group chat to Google Sites. This can add to the functionality of your site. Another advantage is that you can chat with your team members or the visitors to your website.
First, Get Your RumbleTalk JavaScript code
Log in to your RumbleTalk account and click on "Embed."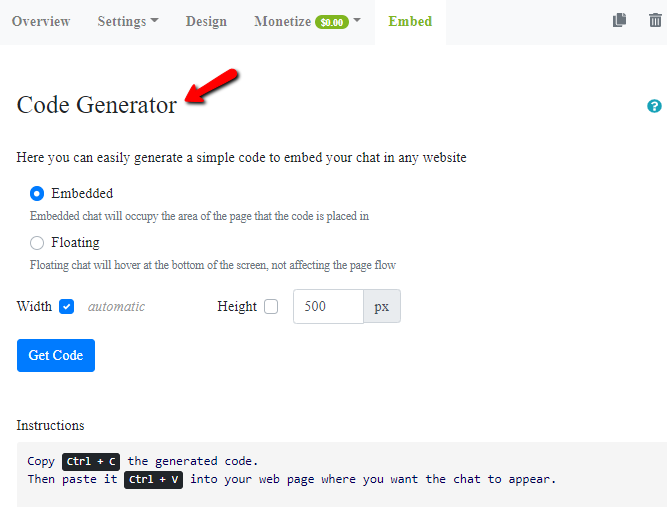 Click the "Get Code" button.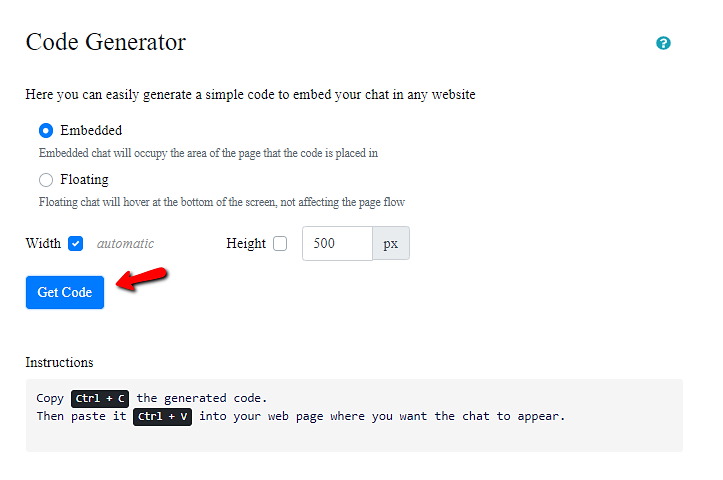 Copy the code in the "code" box.
---
Embedding RumbleTalk in Google Sites
Log-in to your Google Sites account with your Google account.
Choose the website/domain you want to edit.
Click "Embed" on the right side.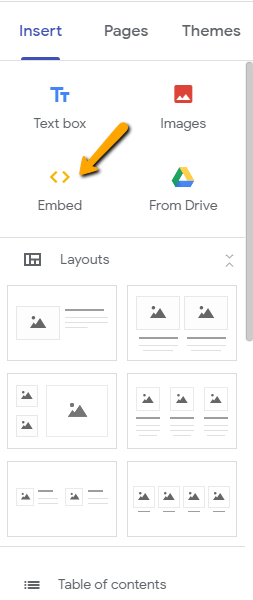 Choose "Embed Code" and insert your chat's code.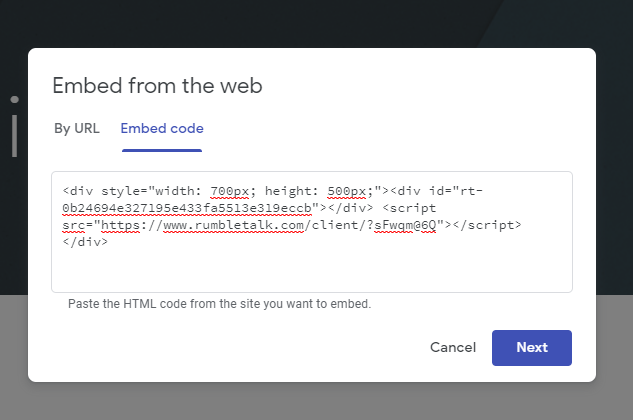 You will now see your group chat in your Google Site!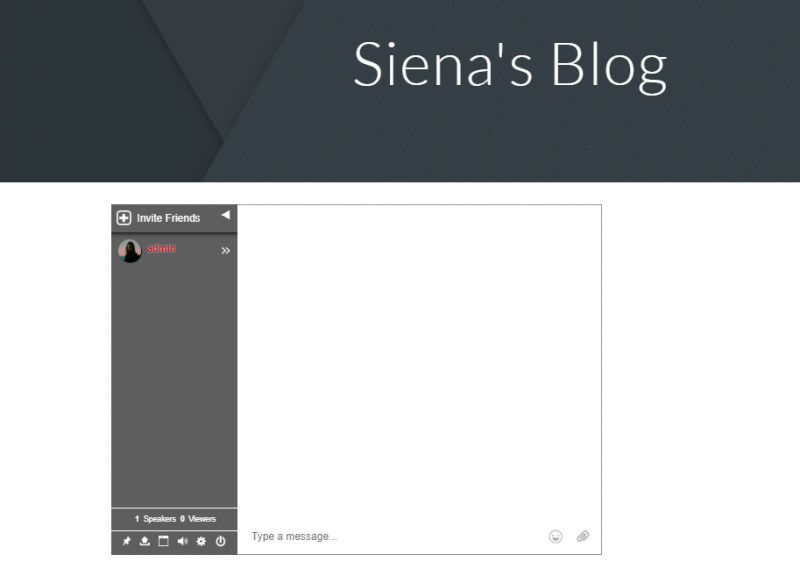 You're done! With RumbleTalk chat as your group chat, you can easily customize your chat room's look. In addition to that, you can add social sign-in and users who will be able to access the chat. You can even change from group chat to private chat if needed. This is a great example of flexibility and user-friendliness. So, what are you waiting for? Embed a RumbleTalk group chat in your Google Sites now!
Easier access
By embedding content on your Google Site, you make it simpler for people to access specific things, like information, files, and even sharing links. Through embedding a chat on your Google Site, people will see content that they don't usually see. They can initiate a conversation with other people and with you (as the owner). For example, schools who embed a chat in their Google Site can use it for sharing documents and lectures. They can also hold conferences and meetings via video call or audio call for parents and teachers. There are lots of possibilities.
Why use RumbleTalk group chat in Google Sites
RumbleTalk makes it easy to embed a group chat on any website. With its automatic code generator, you can paste it on any website that allows embedding.
Moreover, group chats are great for your teams and your website visitors. With RumbleTalk, you can even customize the look of your chat room. In the group chat, there's also a private chat. You can discuss privately some topics with other users. With that said, we've currently added features for deleting messages in a private chat and moving and resizing the private chat window.
If you want to know more about our features, then you can check out our knowledge base. Additionally, you can find the integration instructions for Google Sites here. Not only that, but you can also read about limiting users in your chat, users per room feature, personalizing your chat, and more in our blog!