I know we all know the traditional way to donate. Let me open your eyes to a new concept, collecting donations using an online donation platform that is actually a group chat; yes, a chat.

What's more natural than creating a trust during a conversation and ask for donations when you established your relationship with your online audience?

With a click, your audience/chatter can donate to your cause or organization in no time. You can also see at any given moment your donations and status. See below an example of a record in your admin panel that shows who donated and how much.


So why use an online donation platform at all?
You can use it when you want to deal with collecting money on your website (you can use a direct chat link in case you do not have a website), especially when we talk about donations.
Conversation means trust, trust starts with knowing someone and the first way to gain trust, is talking to a human (live call, video talk, or texting).
More than that, using a proven online donations platform makes it easy for users to gain trust in the technological part.

Online donation is easier with an online chat platform!

Imagine, using the traditional "physical" way of asking for coins or real bills, like what they usually do in churches and non-profit. Seems too complex, right?

Now, you can use an online donation platform that looks like a group chat (with a twist). This means that you can have a group discussion and get donations online from any computer, laptop, or mobile phone.
Now, let's talk about the group chat technology
Just so you know, technology is very important when you need to add a widget which is a tool that looks like part of your website but is actually loaded in a remote. This is called a service or, in other words, an embedded tool (in our case, a group chat).
The idea is that you get from us a piece of code (don't panic, it is simple 🙂 and add it to your website by copying and pasting; this is done only once.

With any online widget service (SaaS – software as a service), the technology is controlled in remote, meaning, you, the chat owner can use the company admin panel to edit, change, and update your chat (anything you do on the admin panel will be reflected on your chat website).
The best part of using a platform (SaaS) is that it is quick and easy to add to any website. You do not need to worry about servers going down, no database, and you do not need to pay for bandwidth or failover mechanism; an online chat and donation platform is taking that burden off your shoulders.

If you want to create a community for your organization, then you can create an account at RumbleTalk home page and then copy the embed code to your website (if you use WordPress, we have a plugin for you to make it even easier).
How chat donations actually work (high level)?
Once you added a chat to your website, you will need to set in the admin in the monetize section the monetize donation checkbox.
Then, a new button will be added to the chat (refresh the chat page and you will see it). Clicking on it will open an option to donate using PayPal. See below how it looks like, you can always change the look and feel of it using CSS.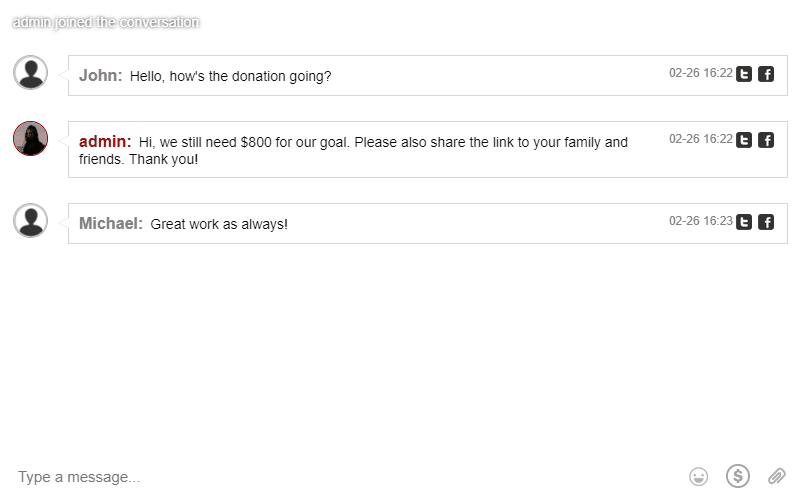 At this stage, we work using PayPal, this means that you go via PayPal, but your users do not need to have a PayPal account. They can use credit cards without opening a PayPal account.
You can try it out; it is extremely simple to set. If you need more information, see elaboration below of how it works.
Step-by-step guide for adding a donating service/platform to any website
As mentioned earlier, we've launched the new donation in a chat. Our group donation lets your donors donate through your chat room. The difference from the normal chat room is that you will now have a donate button on the text box. 
With that said, I'll show you the few steps you need to know to use the feature. So, after you created your account with RumbleTalk, the system will create automatically a chat for you.
Each chat has a unique code; this means you need to go to the embed area and copy and paste your chat code and paste it in your website.
Now you can start configuring your chat to your liking, including look & feel, multimedia, and login settings. Below, you can check the step-by-step option to enable the donation (under monetize).
First, you need to activate the donation feature. You can do that by going to "Monetize Settings" and clicking the box for donations. That's it!

You will now have the donate button on your chat room. 

Before a donor can donate, he/she will be shown a text to proceed to their PayPal account for the donation.
Did I mention it's easy? We tried to simplify the process of using an online donation platform. We are proud of the results.
Not only is it convenient for others but also for you as well! Start using your chat room now to collect funds for your organization.
Move forward and embrace change
There are some platforms that change the way people donate online. Now everything is online, you should be there too.
Donations can be significant if done correctly. That can only happen if we know how to collect donations and embrace this change of using chat for donations.
By adopting this change, we can think of more ways of using the online platform for donations.
Social media plays a big role in making it succeed. It is where you can encourage others to join you. Or, you can share stories about your need that may result in donating.
By doing this, you can open up more possibilities and give more opportunities for non-profit organizations, religious institutes, and supporting fans.
The fresh look of donations
Online donation is more convenient for today's generation, especially now it's overflowing with millennials. Millennials prefer online giving than the traditional one, because of the use of social media. This makes it easier for sharing the actual crowdfunding information and to share it with others.
According to a study by Degasperi and Meinardes in 2017, there are eight external factors that motivate individual money donation. These are trust, reward, leadership influences, characteristics of the organization, environmental influences, personal benefits, characteristics of beneficiaries, and future interests.