You can now accept online payments via our new payment request feature.
Are you a professional who's currently looking for an essential tool for private payments? Or maybe you're in a group chat and another chatter wants to talk to you privately and you want to be paid for your time?
While chatting with your customers, you might want them to pay for your services. You can do so directly through RumbleTalk, an online chat service for your website. You can add it to any website; then, you can chat, talk, or charge a fee for your time.
The payment request feature in the platform allows you to accept payments through a private chat. This payment can be made by your customers for your goods or services.
A chat owner can now send a private payment request to others. You currently have two options for this. Want to know more? Keep on reading!
What is a payment request?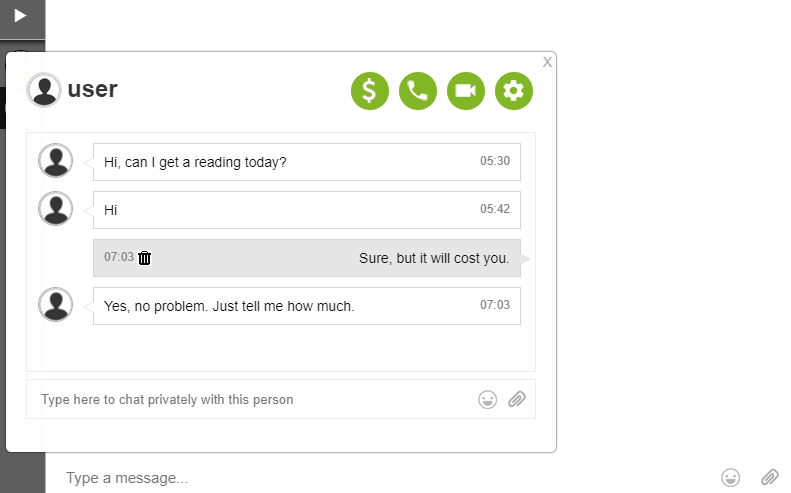 Now, what is the definition of a payment request?
A payment request is basically a payment link with a predetermined amount, which the merchant sends to their client via email, text, or even chat. Once the customer clicks on the link, they will be redirected to a secure payment page where they enter their card details and complete the payment process.
In the RumbleTalk platform, the payment request feature is a private payment in a chat. As the owner of the chat, you will be able to request payments from other users. This can be a payment from your customers for your goods or services. As I've mentioned before, you have two options. If you've already forgotten, let me refresh your memory. The two options you can choose are the following:
In a

private expert chat

, an admin only can send a request for payment to another user. For example, if you are a counselor or even a psychic that talks to someone in a private chat, then you can say, "From now on, I want you to pay for my time." Then, you send him a payment request; when he pays, you can continue to chat!
The second one is more for a group chat. Let's assume you enter a group conversation and there's someone who wants to discuss things with you in private, you can say, "I am requesting payment for my time", so you send him/her a payment request.
Now, to know how to do those options, I'll show you the step by step in the next section.
How to activate the payment request feature?
So now you know the two options that you can use, let's talk about them more. If you're new here, you can follow these steps so you can start requesting payment from your customers.
Sign-up on our website.
After that, log-in and you will be redirected to your own admin panel/dashboard.
Activate payment request in the "Monetize" option and save your changes. If you don't save, it will not go through! Note that you can only choose the currency once. If you want to change it, you need to contact support@rumbletalk.com.
Message privately users that you want to request a payment from. This may be from the options above.
Now, once they reply (or not, as long as they see your message), you can request payment by clicking on their profile and clicking the dollar sign.
Then, they just need to click the "Pay" button that appeared and they will be redirected to PayPal. It's as simple as that!
As of now, we only have PayPal for payouts. But, if your customers don't have a PayPal account, don't worry! There is an option for them to pay via debit or credit card via paypal. 
Conclusion
With just a chat, you can now do private payment requests! If you're having a problem on how you can make users pay you for your services, you've found the right tool for that. 
By using RumbleTalk's private chat feature, you can request payment for your time or for your service. Just remember the two options that I gave you and you'll be able to maximize its use!