Did you ever want to become an online advisor? Or maybe you're looking for an online website where you can make use of your abilities?
You can make use of expert's chat for that. How can you make sure that it will maximize your abilities and profit?
Well, you probably have a lot of questions and such. So we're here to list out what you can expect when you use our expert's chat feature to become an online advisor.
What are the features of RumbleTalk?
Through the years, we have been consistently improving our features. In addition to improving them, we also listen to customers' feedback and adding new features. Here are some of the expert's chat features that we boast to help you become an online advisor.
Chat – The basic means of chatting. You can communicate through messages in the private chat room. Your customer can ask basic questions and you can answer them through a message. This is one way to prove you're the real deal so reply consistently and honestly!
You're probably thinking, "Why do I have to go through all of this when I can just dive in?" Well, not all of your clients will be willing to speak up for the first time. In other words, you have to set the mood first. Let them warm up to you and you'll have a fully booked schedule.
Audio/voice call – If clients want to talk to you or hear your voice, you can do this through voice calls. Voice calls can be a step towards letting your client know that you are true to your readings.

Another plus to this is this makes it easier to communicate. You'll save time talking to your clients one by one. Instead of taking time to type what you want to say, you can go straight ahead and just talk like usual. This is what's great with audio calls.

Video call – If you want to build trust, then you can speak to your client face-to-face. You can even show that you're a legit psychic through various things, like tarot card reading. Why video calls? Video calls are a sign of trust. As said above, trust is the key to better communication.
How the expert's chat looks like
You can use all of the aforementioned methods in your own online psychic chat for free! As a result, you are one step closer in becoming an online advisor.
Without a doubt, we've listed the features that we have to help you in your online journey. If you want to see what expert's chat looks like in the chat room, see the following animated gif.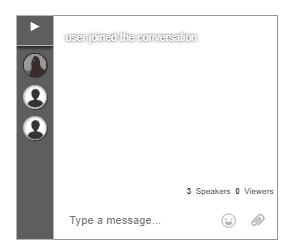 Now, isn't it great? We have a clean interface, meaning you can navigate more smoothly. This shows that only you, as the psychic, can see the active users. You can click each user so you can initiate a conversation. Other users will not see who's active or not, making the chat room as private as possible.
Why an online advisor?
Online advisor because of the increasing number of people looking for answers to their questions, an online advisor is much needed. Being an online advisor, you can offer your services anywhere, anytime.
You control your time and the customers you want to share your skills with. Time is very important. If somebody's wasting your time or being rude to you, you can immediately block or ban them. We give you the ability to create your own online psychic chat room with customization features.
With your own online psychic chat, you can earn money and save those earnings. We only 10% of other user's payment to you. We always ensure that you're getting paid the right amount.
Believing that you should be paid accordingly, we created the expert's chat feature. With the features above and the 10% fee, you're sure to make a great online psychic medium! What are you waiting for? Don't waste any more time and register to our website now!