Now more than ever, in-person events are transitioning to online events. Because of that, companies, individuals, and small businesses are looking for platforms that they can use to hold their online events.
Since you're here, you might be thinking "How do I host an online event?" Lots of questions may be running through your mind. Well, you've clicked the right article.
Their are different kinds of online events. Not all online events are the same. Some events need a live stream alongside the chat, some need only group chats, and some need many individual on-on-one chats (like job fairs).
If you already know what type of online event you need, let's walk through the different kinds of online events.
So, what do online events include?
Live broadcast – This kind of online event can be a live broadcast where users can ask questions and participate in the event through a group chat.
Multiple group chats – This kind of online event can be a set of rooms where users can have group discussions based on topics and discuss with or without a video stream.
Multiple private chat rooms – This kind of online event can be a set of private rooms where one host can talk to many people in private; this is great for job fairs or convention with virtual conference booths.
See below some solutions for the different online events.
Various chat types to choose from
From group chat to moderated chat, you can choose what you'll use for your online event. If your event is a small one, you can use a group chat so everyone can freely chat with each other. No restrictions.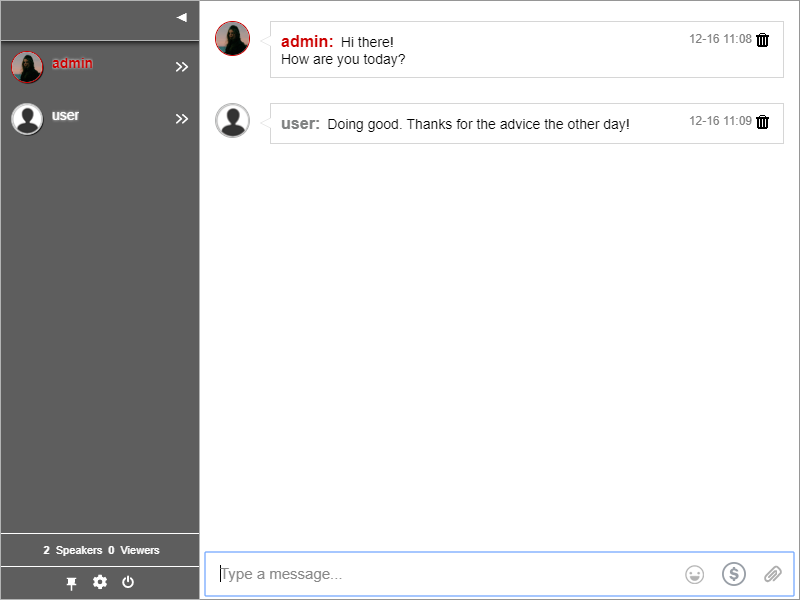 If you want more control of your chat, then choose a moderated chat. For larger audiences, this is what you want to choose. This is good for live broadcasts as admins pre-approve messages, no spam or hateful messages will be sent in the chat.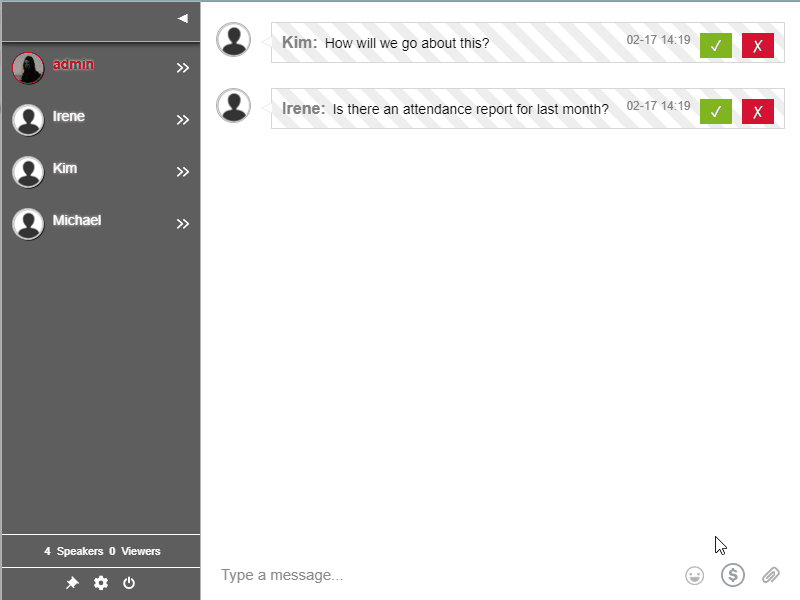 There are two types of users in a moderated chat:
Users (non-admin) will see only messages approved by the admins. So, a user can send as many messages as they want, but it will only appear for all if an admin approves it.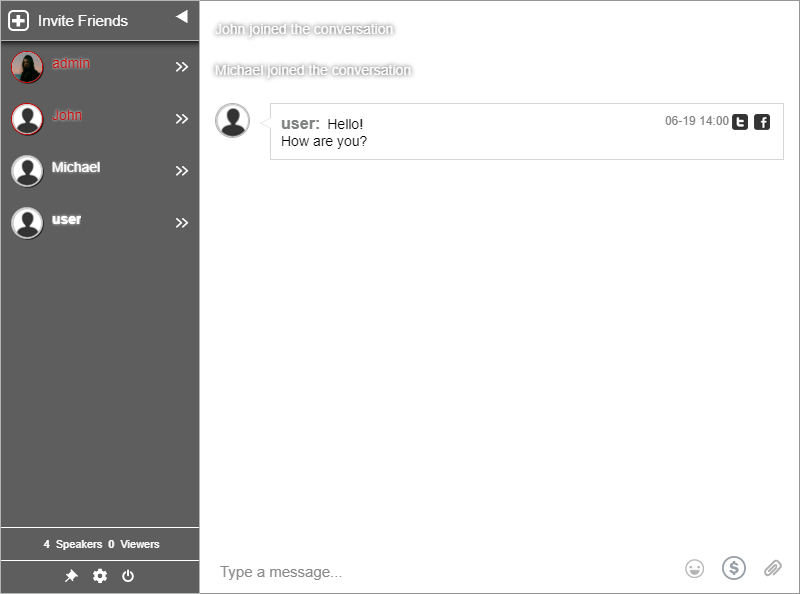 Admin users will see every message sent by non-admin users. Therefore, they can choose to approve or delete a message, depending on the context.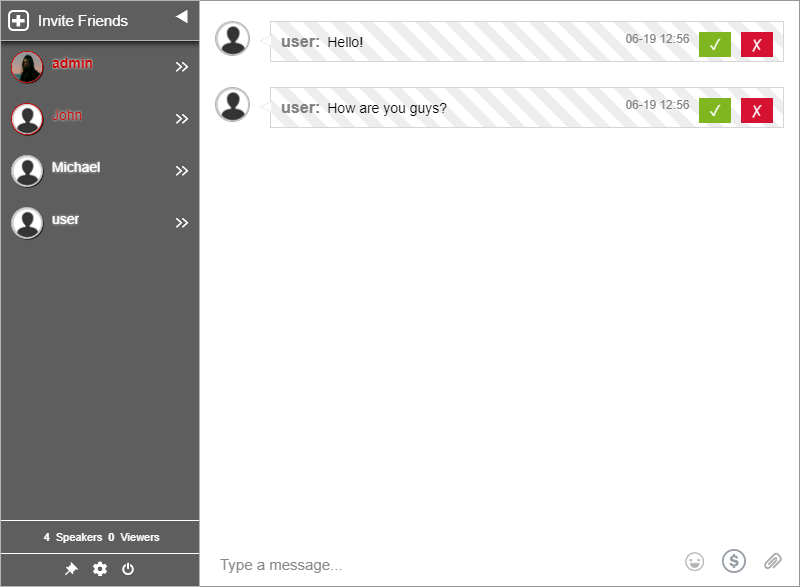 Adding more rooms
As said earlier, there are different kinds of online events. If you're hosting an online event with several topics, job fairs, or virtual fairs, then you might need more than just one chat room.
It is easy to create multiple chat rooms. To create more than one room, simply use one of the two:
Use the admin panel to create rooms
Use the REST API to create rooms.
Using the admin panel is the easiest way, you log-in to your admin panel. Then, you create a new chat room.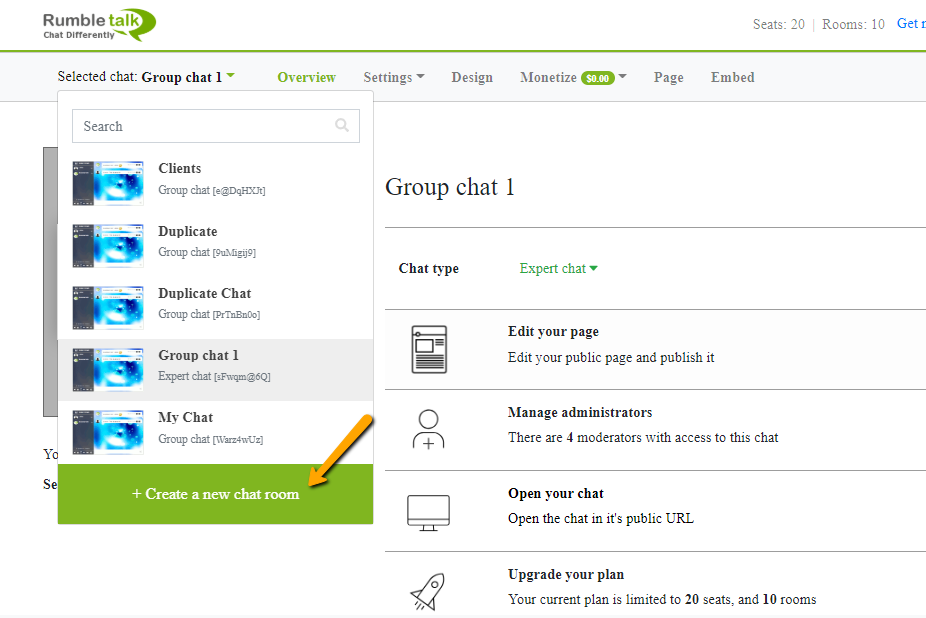 The number of chat rooms you can create is shown below your chat on your admin panel. That's your account plan. If you want to add more chat rooms, then you need to upgrade your account.
The second option is using the REST API. This option lets you integrate the creation of chat rooms using an API call (you will need a developer for that).
When you need more rooms, you need first to upgrade your account. You can upgrade your account by clicking the Get more or Upgrade your plan.
An account holder can add a maximum of 12 rooms at the start. If you need more rooms for your live event, then you need to contact us.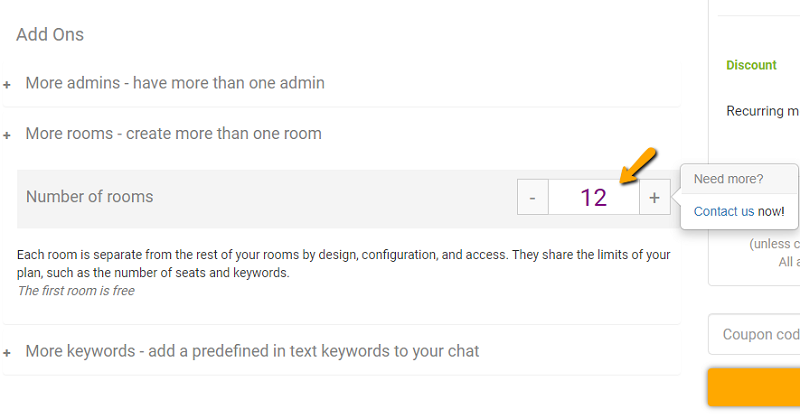 Turning your moderated chat into a Q&A chat
Now that you know that admins can pre-approve messages, why not use it for Q&As? Since Q&As need moderators, this is the perfect feature for your online events.
The moderated chat is versatile, so you can use it for any online event. From online discussions to big conferences, you can use the moderated chat for Q&As.
Be sure to appoint your admins beforehand so that the event goes smoothly.
As a Q&A chat, the moderated chat functions the same. In this case, you will only use it for Q&A. Therefore, non-admin users or the audience will ask questions to the speaker(s).
Then, admin users will choose appropriate questions for your online event.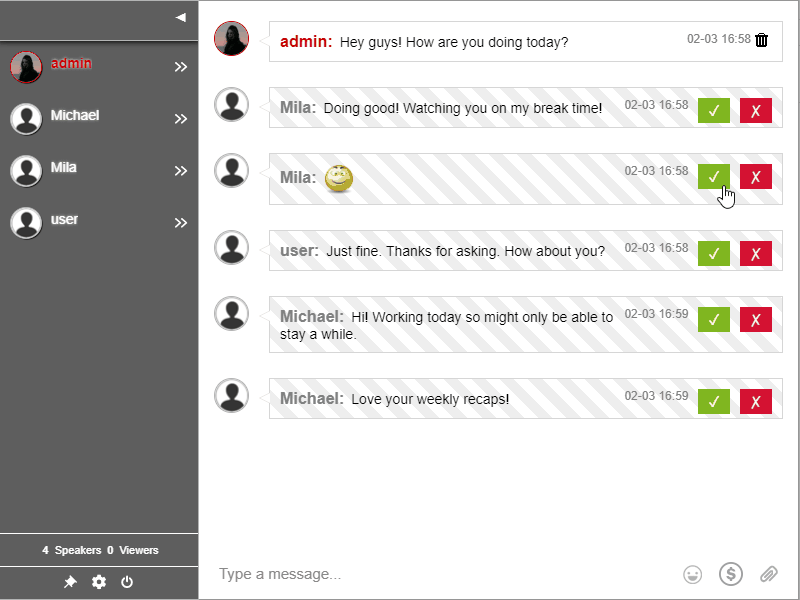 With the Q&A mode, your event will surely go smoothly for both you and your audience. There will be no space for trolls or hateful messages in your online event.
Using YouTube Live + chat for your online events
Let's say that you're holding an event for your followers on your page. However, YouTube Live doesn't allow YouTube's Superchat to be embedded on other websites.
Fortunately, Rumble Pages can save you from that dilemma. Rumble Pages acts as a minisite that you can create using your admin panel. As long as you're registered to RumbleTalk, you can create your own page for every chat.
On your own page, you can add/change elements based on the pre-made template. One of those elements is a YouTube URL.
You can then add your YouTube Live link and chat with your followers as you hold your live events. Each page features your chat. Therefore, you can utilize your chat for your online events.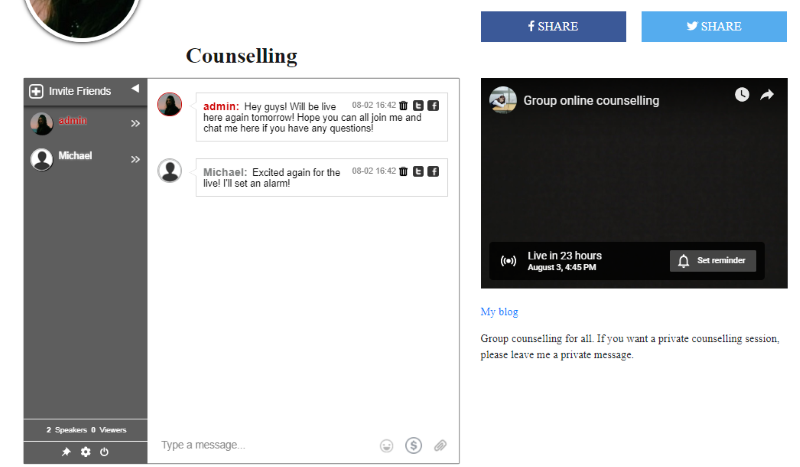 If you want to secure your page, then you can add a page password. Only those who know the password can enter your page.
To add a password, click Set Password on your page and type the password you want.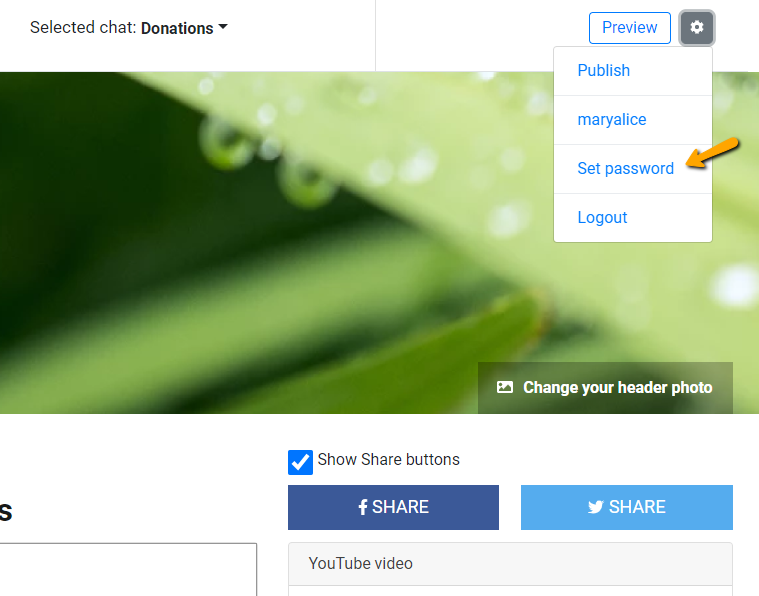 You can avoid trolls or hackers with this feature since it adds a layer of security.
Another advantage of having your own page is that you can add paid access, meaning you can create a room for paid live streaming. Users have to pay before they can enter the chat.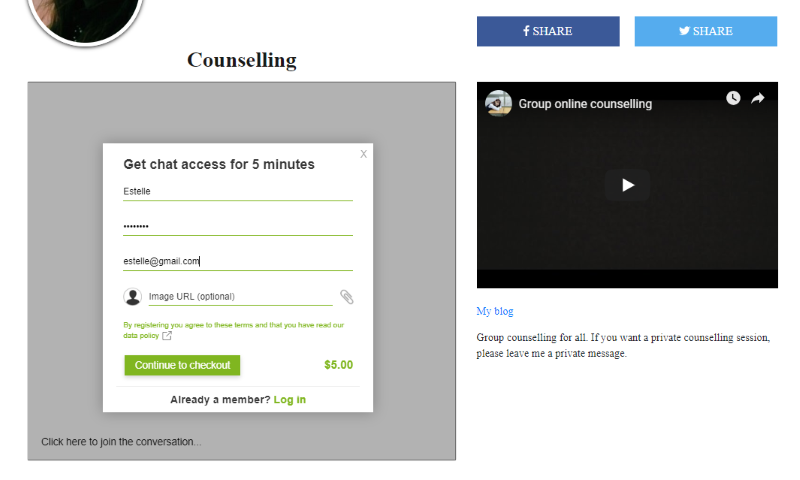 To do this, there's an option in YouTube Live named Unlisted.
Only people with the link can view the live, so you can embed it on your site. Then, you can add paid access if they want to enter the chat.
Add paid access
To add paid access, click Monetize Settings on your admin panel. Then, choose if you want your followers to pay for entrance or subscription.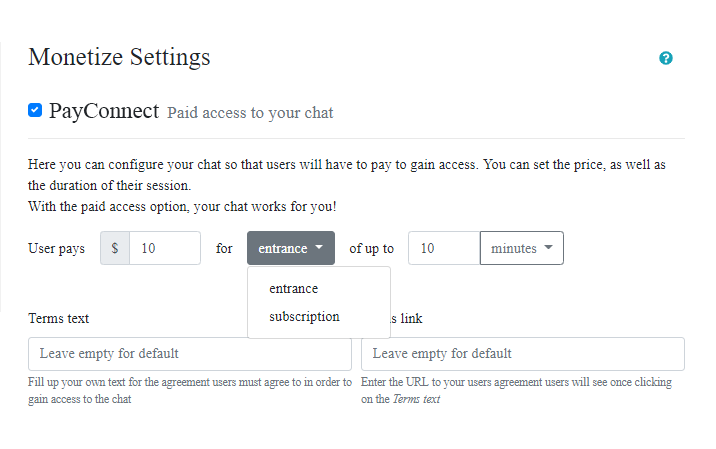 If they don't, your followers will feel left out; nobody wants that.
You can use this for any online event such as seminars, workshops, and conferences. By using this feature, you're getting paid for your time and knowledge. Also, you can answer questions of your audience through the chat.
Additionally, you can also collect donations in the chat, so you can also use it for auctions or crowdfunding for organizations.
Hosting online events and more
The shift to online events has been challenging for a lot of us. However, we need to adapt to the new norm. Therefore, these products and features can help you more than you can imagine.
You can not only use these for online events but also for one-on-one calls, sending messages, and sharing documents,
Since RumbleTalk is a chat platform, there are more features than just the ones mentioned here. If you want to know more about RumbleTalk and its functionalities, check out the website.