The coronavirus pandemic is shifting the world to a digital one. As a member of the church, how are you coping? Some churches have temporarily halted their worship services and masses. Will you do the same or are you open to the idea of online worship services?
Online worship is the same as traditional worship. The only difference is you do it online.
Usually, the mass is broadcasted live with church members. However, because of the ongoing pandemic, the only ones present in the service are the pastor, altar servers, and the cameraman.
By taking your worship online, you give your members hope, especially in times like these. So, let's talk about how your church can take worship to a modernized one.
Miniaturize your church website
Already have a dedicated website for your church? You can have a mini version of it. Focusing only on a specific page, for this instance, your online worship service, it will be easy to create.
What are the elements that are included in your minisite?
Your own chat – open or closed chat
YouTube link – for your live broadcast
Description – all about your church
Header and profile images – images that can distinguish your church
Social media share buttons – share your minisite to Facebook and Twitter
Text area – anything you want to say to your members or visitors
These elements are available for you to change. Also, the chat is unique to this minisite. You cannot change the chat, but you can customize it via CSS or skins.
Creating your online worship minisite
How can you create a minisite for your church?
Firstly, you need to register to RumbleTalk. Just go to the RumbleTalk website and click Sign up.
Next, on your admin panel, you will see Page. Click that and you'll be redirected to another page. This is the Page section, which acts as your minisite.
Lastly, customize the page to your liking. A default template is set so you won't have any problems with coding or website development. All you need to do is change it according to your church or organization.
The following are step-by-step visuals of the procedure.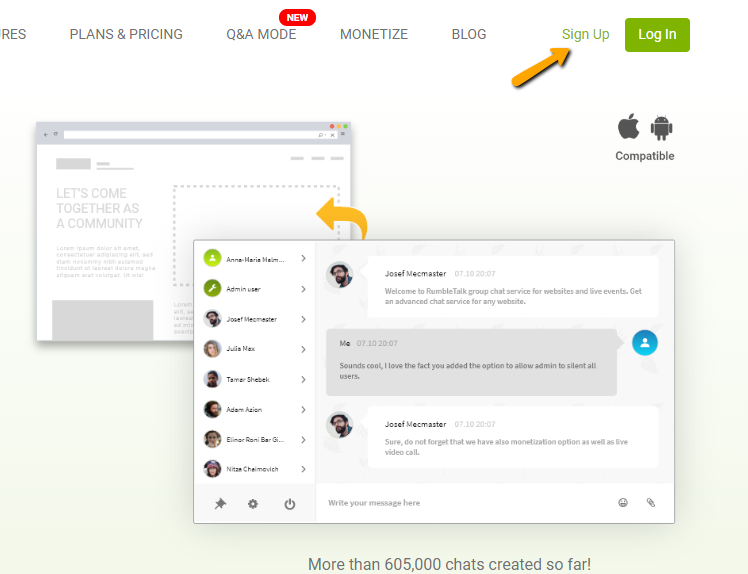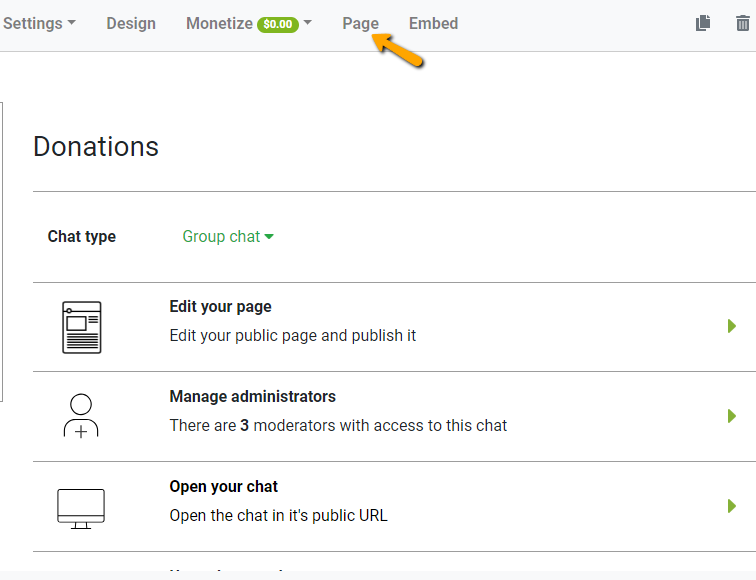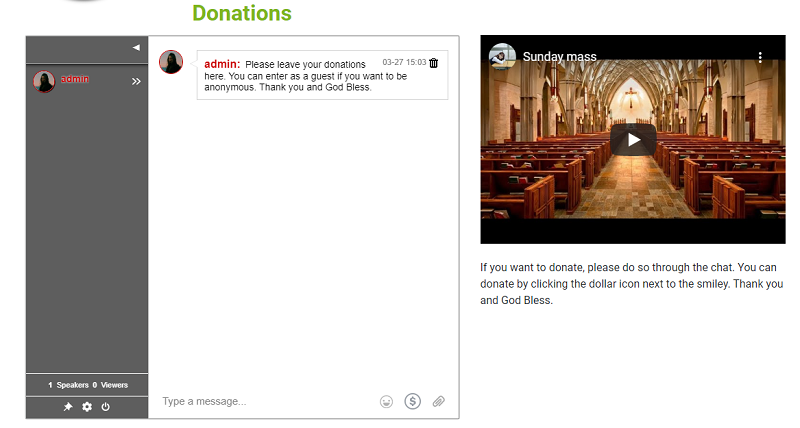 Use the chat as an online donation platform
As with all churches, donations are a vital part of worship. With this minisite, you don't have to leave that out. This can help you gain donations.
For members of the church, they can donate via chat. To enable donation in your chat, go back to your admin panel. Then, go to Monetize Settings and check the box for donations. Don't forget to save your changes, else it will not reflect.
To make a donation, members of the church should log-in. They can choose from five methods:
Guest
Facebook
Twitter
Username
Register as a new user
If they choose to register as a new user, the next time they donate, they can log-in with their username and password.
Should they wish to be anonymous, they can also log-in as a guest user. Facebook and Twitter log-ins will show their respective profiles on their social media platforms. This means that it will show their name and profile picture.
After that, they can donate by clicking the dollar sign on the text box. They can choose to donate via their PayPal account or their credit/debit cards. It's that easy.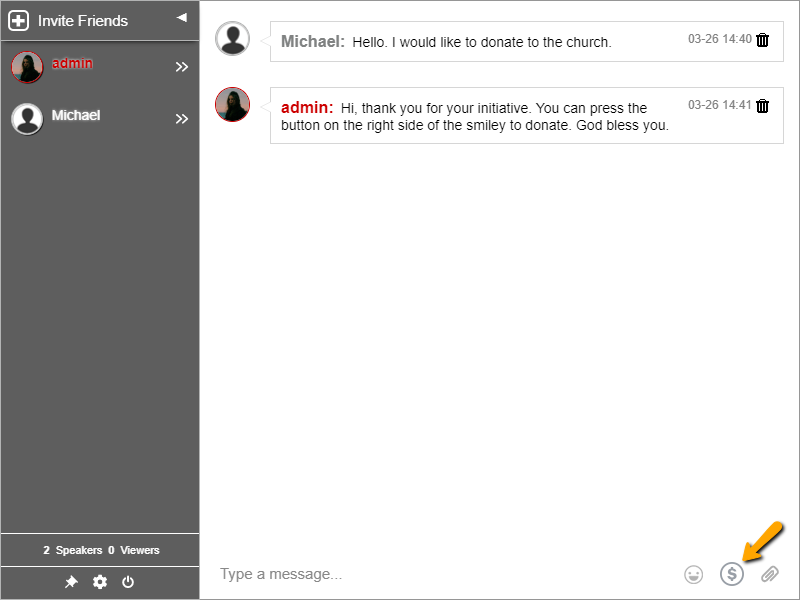 Additionally, they can write a personalized message for each donation. The minimum donation for each transaction is $2, while the maximum is $100.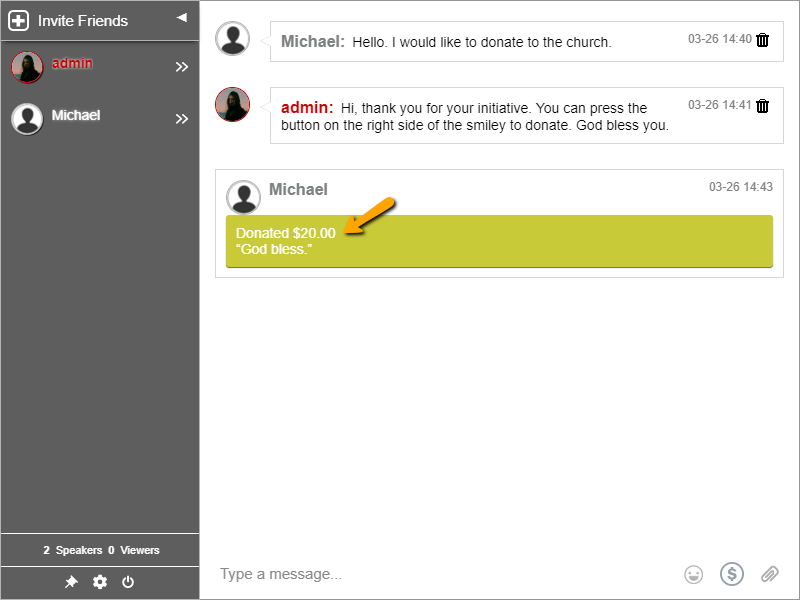 You can refer to the example above where the chat is used for donations. In parallel with your YouTube live stream, you can collect donations simultaneously.
Also, you can read this blog post if you want to know more about how donations work for churches and non-profit organizations.
Online worship made easy
Just because the world has turned to online measures doesn't mean you need to stop all church services. There's always an alternative.
Moreover, your members need the church's guidance more than ever. The pandemic is causing panic. As part of the church, it's your task to guide and keep the faith in people's hearts.
With a minisite, you can chat with your members and let them donate for a good cause. Also, you share the Word to your members even if they cannot attend the mass personally. You give them an option and that's always better than canceling all worship services.
Want to get started with your minisite? Then, visit RumbleTalk to know more about the feature.