With the Covid-19 pandemic, e-learning is booming. Educators are leaning towards educational tools, chats, and websites to cater to their students' educational needs.
There are many tools out there that you can use. The challenge is how you can introduce conversation in an e-learning community.
The real fact is that students and educators may not be familiar with this process. All they've done in the previous years are face-to-face conversations and lessons.
If there ever was the use of educational tools, this will lean towards the basic activities such as online quizzes, homework, and the likes.
However, real communication is not present. There's only a one-way communication that's happening.
This made us think of how teachers and students will be able to survive this predicament. Over the next few points, we'll be sharing ways of how you can add real conversation while using a live chat tool.
Schedule a time to answer live questions
Before the pandemic, you'd have a set time to answer your students' questions. Why not do the same on your live chat tool? Here's how it could work.
Set an official time where your students can have access to the moderated chat with a designated educator.
Give the students access to the designated educator instead of having a normal class. The expert will be there to answer the students' questions but not required to engage conversation unless a question is asked. Also, the expert can moderate the chat by choosing the appropriate questions. The following is an example image that demonstrates this. A moderated chat is added to a website or shared via a link. The students can see that the admin is online and they can ask questions.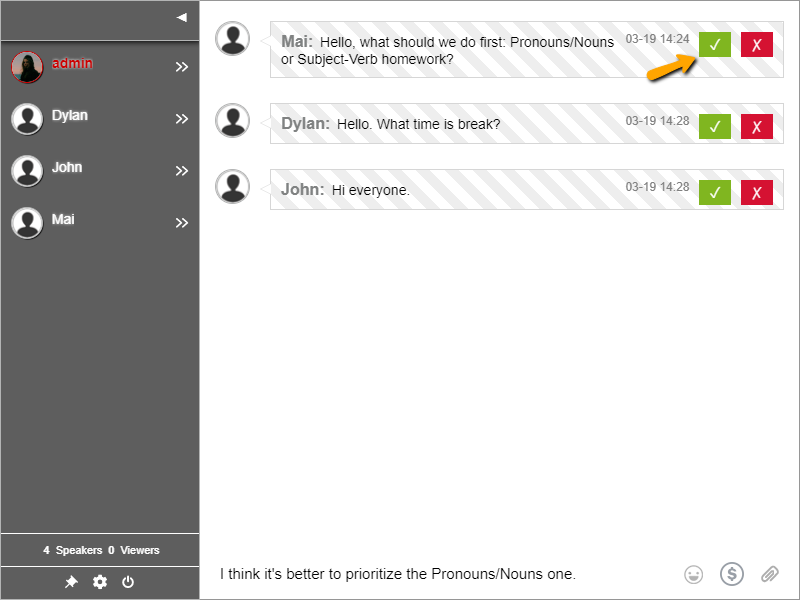 Have your students participate in a group discussion
Instead of letting your students do their work themselves, they can find comfort in engaging with other students. As they don't have much interaction outside of the physical classroom, this is a great way to still keep that connection. Here are two ways to do that.
Deliver the e-learning curriculum in parallel with a moderated discussion. As the educator and moderator, you deliver a controlled environment with the course content. Then, you can take a break from the moderated discussion and let your students discuss freely among themselves.
Another approach could be a group discussion where each group has their own moderated chat. You can assign a leader per group and let them moderate their teammates' messages. For a productive conversation, create a list of questions and review materials for them to answer and discuss.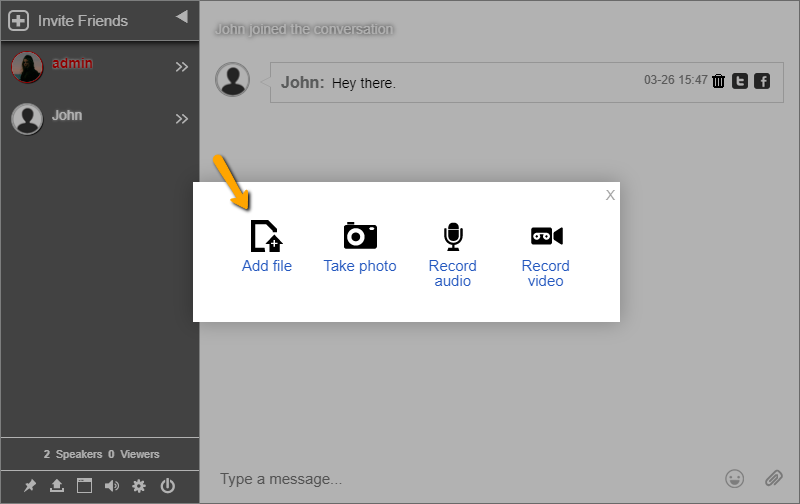 Create an e-learning moderated chat for group discussions
With today's technology, it's easy to create an online chat. You have a variety of e-learning chat tools to choose from and a lot of them are free. Also, there are chat tools that are web-based and don't have any access issues.
So, how can you incorporate a group discussion in your e-learning course?
As said above, setting a time for a live chat with an expert and students can be advantageous. In times like these where online classes are needed, this is how you can answer your students' questions.
While setting a specific time is convenient for both parties, you can also opt to do a group discussion that's not dependent on a particular time. With a moderated chat that you can immediately change into a group chat, the chat is open to all. You can also keep a history of your chat transcript so that information can be reviewed and accessed in the future.
A dynamic chat experience through e-learning
In the examples above, we used RumbleTalk's moderated chat feature. We showed a quick demo on how you can use a live chat tool as part of the e-learning experience.
In the examples above, we used the Add File's ability to insert discussion questions and review materials. With RumbleTalk, you can also change from moderated chat to group chat with just a click.
Because of RumbleTalk's embed code, you can also insert it on Google Sites or your own website. Also, this is easy for educators with limited technical skills as it is just copying and pasting elements.
For this, we used the chat's free features to give you some idea of how you can work with a live chat tool in an e-learning environment. The advantage is that you introduce a real conversation.
It's a great way to build social connections and encourage thinking and not just sending homework or PowerPoint files.