Presentations and an audience response system go hand in hand. Also, there's more opportunity for engagement.
As in all presentations, the audience craves interaction. Over the years, companies have used audience response systems to engage their audience.
However, before you can use a response system, you still need to be prepared. A cool PowerPoint is not an excuse for a poor presentation.
Let's discuss how you can integrate an audience response system on your presentation. I'm sure you'll be thankful for a communication platform for your audience.
Create a Q&A platform for your presentation
Before starting your presentation, it's best if you already have a platform up your sleeve. For this instance, you can create a moderated Q&A chat.
How can you get your own Q&A chat? Great question.
RumbleTalk has a new feature for Q&A. It's called moderated chat. It functions as a Q&A platform for events, presentations, and more.
To get your own moderated Q&A chat, follow these steps: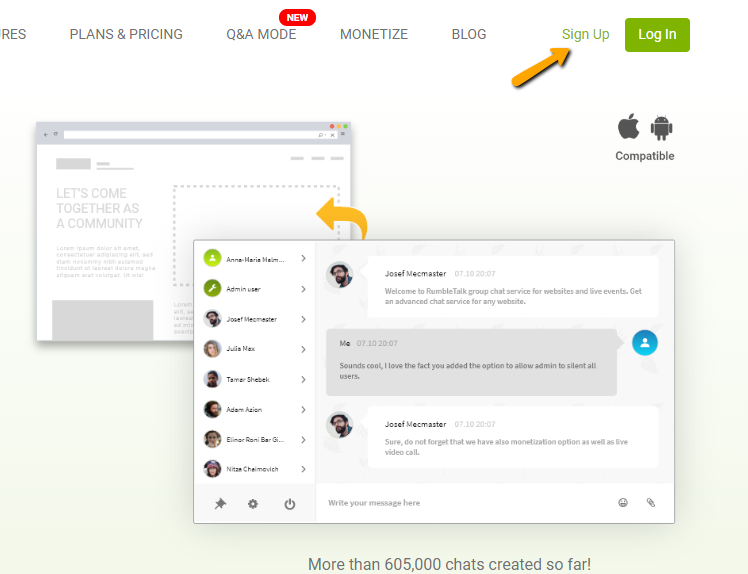 First of all, you need to go to the RumbleTalk site.
Next, sign up for a new account.
Thirdly, choose moderated chat as your chat type. This will let you pre-approve messages before they get sent out.
Lastly, adjust your chat settings. If you want your chat to be monetized, you can do so by activating paywall. This can be seen on your admin panel under "Monetize Settings."
This Q&A platform lets you monitor all the messages in the chat. As the moderator, you choose the questions you want to answer.
Also, you have the option to delete messages. This will let you start another Q&A session with a clean slate.
Integrate the audience response system in your presentation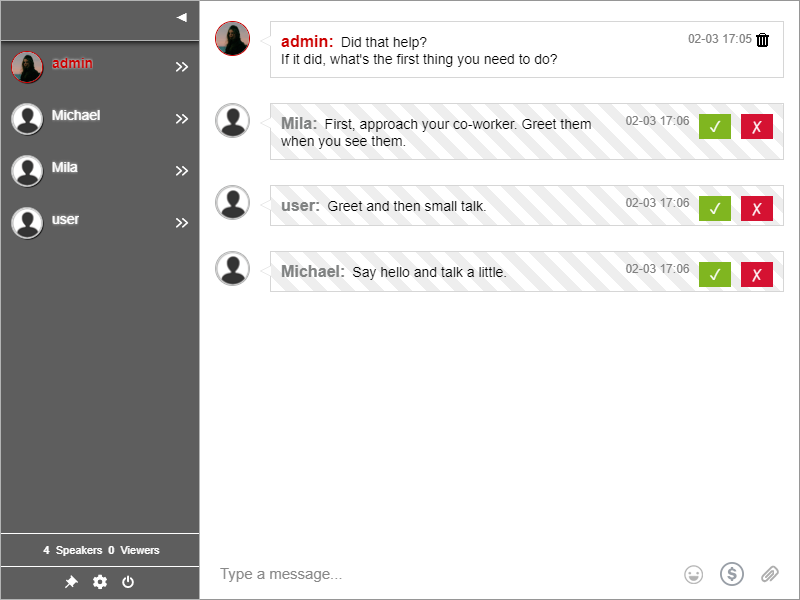 A Q&A chat can make the audience more interactive. Rather than just discussing your topic, you can let them submit questions. In turn, there's a two-way conversation.
Give instructions to your audience. Let them know how to use the platform. If they're comfortable with it, you can then ask for questions.
The response system allows you to hold Q&As in parallel with your presentation. You don't need multiple tabs to communicate with your audience. All you need is an effective response system.
In using this Q&A platform, there are two ways that you can connect with your audience.
The first one is you ask them for questions. This means, as the speaker/moderator, you will answer their questions. Presentations are hectic events. So, you need to be prepared for questions flying in and out.
The second one is you're the one asking questions. Why will you do that? You need to ask the audience for questions so you can address them in your presentation. This makes your audience feel that their voice is important.
If you want a successful event, you need Q&As to invite conversation. As you're holding a presentation, the audience's questions need answers.
Wrap it up with a copy of your presentation
Got some slides or documents that you used? Share them in the chat. Furthermore, you can add any file in the chat. Send images, PDFs, Word, Excel, and more.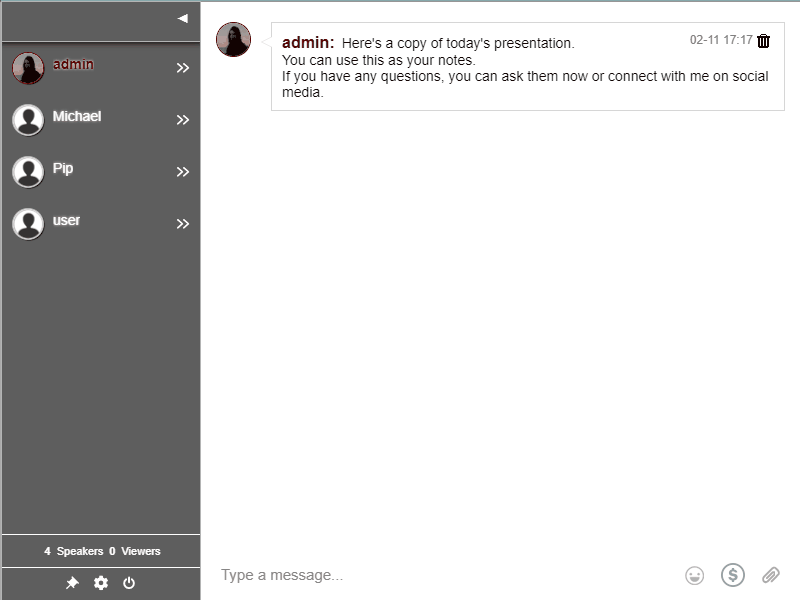 This can help build a connection with your audience. Maybe next time they'll bring a friend or two with them!
In addition to that, you can also use this to stress the important points of your presentation. When someone has follow-up questions, you can address them before you end.
If you're short on time, you can let them reach you on your social media platforms. Besides, it's great that the audience has your contact details if they want to connect with you.
Moreover, it's free advertising. It's a win-win situation for both parties.
Audience response system for presentations
An audience response system is one of the modern mediums in online and traditional presentations. However, having one at your command is not enough.
If you want your presentation to be impactful, then you need to know how to present it. This means learning how to facilitate conversations. Moreover, you should know how to start conversations.
I hope that the tips will help you with your next presentation. If you have any questions, feel free to reach us on Facebook and Twitter.
Also, you can contact us via Support if you already have an account. If you don't, then you can reach us via the contact form.
Interested in the other features of the moderated chat? You can check it out here.