Recently RumbleTalk introduced user registration — a brand new user-requested feature requesting chatroom participants to register before entering. With this feature, users must register rather than join a one-on-one or group chat as a "guest" or through their social media account. By encouraging chatters to take a few extra seconds to create an account and register, both you and your users will enjoy a load of benefits.
1. Get Intel on Your Chatters
Knowing who the chatters are in your chatroom is crucial. This allows you to have impactful and engaging discussions with members of a community or the general public. When a user registers, you will have access to a unique user defining details such as:
The full name of the registrant
Their email address
Their selected accompanying image or avatar
A general description of the user (this can be used for phone number or anything else)
This valuable information can be used for planning upcoming chat topics and producing effective marketing and advertising materials. It can also be used to pave new avenues for reaching out and connecting with users in a more meaningful way. Registration also makes it possible for you to receive detailed and insightful reporting. This gives you details like multi-event analysis data and user preferences, so you can efficiently manage your chats.
Note, you can enable register for both mobile and web. After logging in, your username in mobile and chat will be the register name you choose.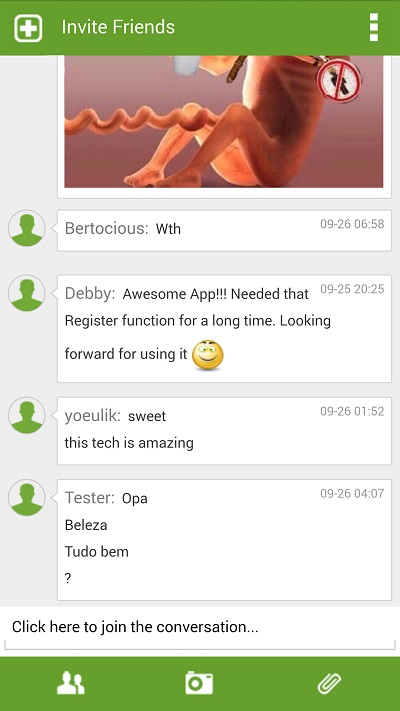 2. Build an Email List with User Registration
If Facebook or Twitter no longer existed tomorrow, would you still be able to reach out to all of your chatroom participants? When a user registers, he or she must provide an email address. By having that information, you have 100 percent access to your chatters all the time.
Building your email list means:
Being proactive. You can communicate what you need to communicate to a qualified targeted audience when you want to.
Reaching everyone. Believe it or not, not everyone has a social media account or keeps their account running. However, almost everyone has an active email address.
A more attentive audience. While your audience may tend to quickly scroll through posts on social media, we all tend to pause and give more attention to the emails in our inbox.
Email lists are one of the most cost effective ways to drive engagement across every marketing channel. These lists provide yet another way for you to gather crucial statistical data on the effectiveness of your campaigns.
3. Chatters Benefit, Too
By registering an account, chatters can express themselves through their choice of username, image or avatar, and the general description they provide of themselves. They can also take advantage of having access to a number of other features which those who do not register will not be able to enjoy.
User registration improves efficiency, user engagement, and it can boost chatroom return rates. RumbleTalk chatroom admins have the option of creating a "register only" chatroom through their chat admin settings, or you can continue to allow chatters to log in as a "guest" or through their social media account. The choice is yours—whatever works best for you and your community!