Generating fresh content for your website can sometimes be a challenge. Luckily, a solution may be right under your nose!
Using Chat Rooms to G
enerate Fresh Content To Help Your Website Succeed
We are sometimes able to observe how RumbleTalk customers are using their chat rooms.
Some may only use the chat room to answer user questions and complaints. Others may use it to create a community within their user base.
More and more often, we are seeing customers using their chat rooms to generate fresh content for their websites.
When your website contains content that is popular, you are likely to attract more and more visitors to your site.
This may seem obvious, but how does this really work?
When you perform a search in a search engine like Google, the search results are ranked. The number one website likely has earned that spot due to its content.
What Makes for Fresh Website Content?
There are a few guidelines to follow if you want to make sure your content will help improve your ranking on search results.
Use of Certain Words – If an article or blog post on your website contains words that match a search query, then your website is more likely to achieve a higher ranking in the search results. It is helpful to choose a particular keyword or phrase and use that wording throughout the article to improve the odds of your website ranking high.
Accuracy – Is the content accurate? Are you able to link to reputable sources? Can the audience trust what you are saying is true?
Relevance – Is your website content relevant to the search query? If you are aware of current trends and news items and produce similar fresh content, this is a great way to stay relevant.
Every piece of content you publish is analyzed by search engines. If you write content that follows the above guidelines, the search engine is more likely to rank your website higher when web searches are performed.
Using certain words in your content is not particularly challenging. Checking for accuracy in the article may be more time consuming, but also is pretty self-explanatory.
But you may be wondering, how do I make sure my content is relevant?
Chat Room Generated Fresh Content is Relevant!
By its very nature, the content that is generated from conversations in chat rooms is relevant.
Chat rooms allow you to engage with your users and customers, listen to their questions and complaints, and learn about their interests.
This gives you a huge opportunity to gain insight into what is relevant in your industry or field. Nothing could be more relevant than talking to your customers about your service, product, or website.
You should treasure this insight as if it were pure gold!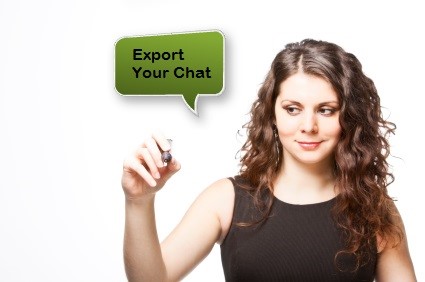 With these chat room conversations, you have a couple of options. You could export the entire conversation into your HTML and add it to your website with a quick copy and paste.
It is incredibly simple to do this. After logging into your admin panel, find the "Archive" option. Then you select the messages you want to export and click "Export."
That's it! You are done!
Another option is use the chat room conversation as inspiration to create fresh content.
Maybe a user said something that made a light bulb turn on in your mind. A new idea for a blog post or article!
Perhaps you recognized that several users had the same questions and concerns over your product or service. While you may have addressed these concerns in the chat room, this also is a new opportunity to write an article for your wider audience that addresses these concerns in greater depth.
You can see that there are multiple ways you can use your chat room conversations to create fresh content.
Take advantage of this knowledge and you could drive more and more users to your website!