With the meteoric rise of social media in the last decade, and as technology continues to progress at near lightning speed, communicating with your audience and customers has never been easier and more important than it is now.
The Flexibility of Using WordPress
If you already have a website, awesome, your ahead of the curve. Whether you are a business or an individual, chances are you use WordPress (over 75 million websites are powered by this platform), which is by far most reliable CMS tool on the web, allowing both developers and novice users to develop gorgeous and highly intuitive websites. It comes with a plethora of high-powered themes and tools that allow you to create a custom site without a whole lot of heavy lifting.
What makes WordPress so attractive to developers and site managers is its flexibility. It contains numerous cutting-edge and updated plug-ins that can extend the functionality of your site without the need of writing one single line of code.
A plug-in like RumbleTalk for example, can not only ensure your online communication success by offering you a direct line of communication from you to your community, but it also can play a significant role in enhancing the usability and functionality of your site (not to mention it integrates seamlessly with a majority of websites). It's also important to mention that a chat plug-in like RumbleTalk can make your site look more official, and as shallow as that may seem, perception can be everything in business.
Fully Customizable WordPress Chat
A combination of live group chat along with private video and audio calls, RumbleTalk is emerging as one of the most popular chat plug-ins for WordPress. With its fully customizable capabilities, not only does it allow you to engage with your web visitors and offer real-time customer service, it can also be added to a variety of websites, blogs and is even compatible with Facebook (site visitors can also log in to chats using their Facebook and Twitter accounts).
Site managers have the unique ability to customize their chats however they choose, whatever fits best with the theme of the site (custom themes can also be created and added). We encourage all site managers to go into settings, play around with the options and have some fun with it!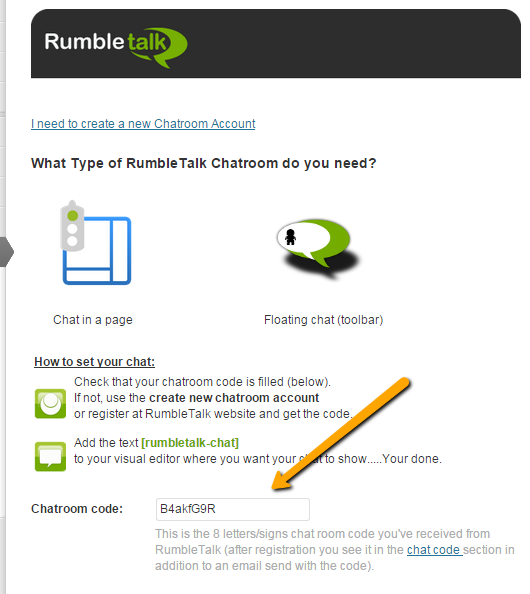 Integrate your own users base with a click
Another unique capability of RumbleTalk chat, is its capacity to add your own users base for automatic log in. Registered users in WP,  BBPress and BuddyPress can automatically log in to the WordPress chat rooms which means you can make the chat available only for your users base.
This feature is essentially for companies that wish to develop a private group chat utilizing their own already existing users base. Users can also send internal documents through the chat such as word documents and PowerPoint presentations. This is perfect for situations that call for closed-group discussions, Social private groups or closed communities.
Quick and Easy Set-up
And did we mention the whole thing typically only takes minutes to set up? This WordPress chat plug-in was designed to allow users to add in group chats quickly and efficiently. After you have finished activating the plug-in on your site, you then register and set your WordPress chat.
Once this is completed, you can then acquire your customized chat code. Once you have your chat code, you can decide on the specific placement and size of your RumbleTalk chat room.
These steps are both fun and important, because this is where you can control any aspect of your chat, from width and height, to the actual position of the chat. You also have the option to have it embedded as a floating icon or directly in a page, whatever fits better with the vision you have for your site. Whatever you decide, the conversation stays the same, so you can talk to your visitors while they browse your content!
With its slick interface and no shortage of features, the RumbleTalk plug-in is truly multipurpose and is designed to satisfy any chat related needs on a WordPress site. It is ideal for group chats, teams, group discussions and a whole lot more!