User Base Integration
We are pleased to announce a new feature for WordPress chat room plugin. Now your registered users will be able to automatically login to your WordPress chat room. This means that the chat can be accessible only for WordPress users base and also by advance layer plugins like members plugin or buddypress plugin.
This feature is for companies that wish to create a private group chat using their own existing users base.  It is perfect for closed group discussions, social trading websites, health support group, admin areas where discussions are private or any type of private chat rooms for websites.
Users Integration Steps
1. We included a new check-box in the RumbleTalk Plugin for WordPress (V4.0.1 and up).
Checking this check-box will seamlessly set the WordPress chat room to use WordPress registered users.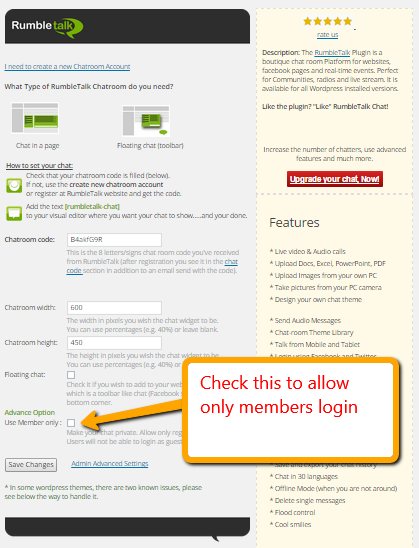 2. Login to the RumbleTalk admin panel and set the login option to be SDK only (private members).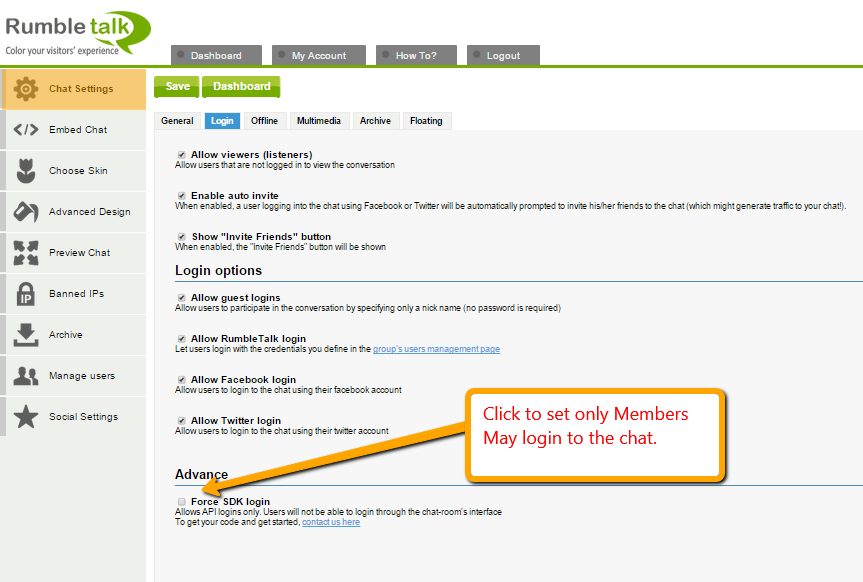 How this is going to work
Now you made your chat private. It means only allowed registered users may login to the chat.
In addition users will not be able to login as
Let take an example of a website that have 500 registered users. This site is giving advice for group of Stock Traders (the registered users). When these traders are logged in to the site (after supplying their users and passwords). They will be immediately and automatically logged in to the chat room.