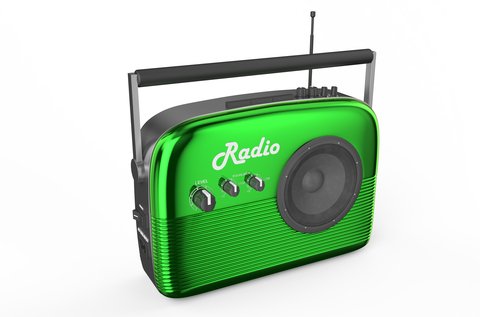 Internet radio is booming!
Since 2008, the number of people listens to Internet radio is growing significantly. A year before, in 2007, traditional AM/FM radio audience was declining, based on Arbitron research company, who becomes Nielsen Audio today. Another research by Triton Digital shows that last year, in 2014, almost half of 124 million people in America listen to Internet radio, to be exact the number is 47%.
With the growing number of audiences, here comes the question, how can we create a better experience for our audiences?
Based on the data from two most respective research companies: Triton and Nielsen Audio, we really have to consider Internet radio station as a serious digital media to convey message.  The power of Internet radio is in its casual listening experience, that enable people listen to online radio while they doing other activities. We have discussed how radio chat room is able to create a better experience for radio station. Availability of chat for Internet radio station will create a very interactive way of old-fashioned phone and conversation between radio DJ and audience.
Chat for Internet Radio Station and Its Audience
The staggering number of Internet radio audience is really something to be taken seriously by radio station operated on the Internet. Within 4 years, from 2010 to 2014, the number of online radio audience has increased 20% and most of them are listening the radio in their smart phone or desktop computer/laptop. Surprisingly, majority of Internet radio audiences come from 12-24 years age group, the age group whose preferences can change within second and they can easily switch channel. For this age group, radio station must be able to catch their attention to make them keep listening to the station without switching channel.
It is important for radio station to engage audiences more actively, one of which is to invite them in giving their feedback or create an online conversation. We have seen in the previous article  of what RumbleTalk chat for internet radio is capable of in energizing live event.  Actually, html chat platform provides the most convenient way for both radio station and audience to communicate and interact.
Why?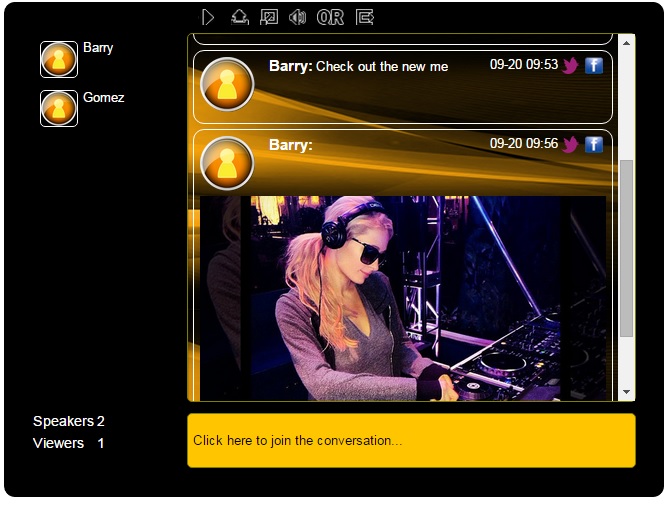 Synced Chat for Internet Radio Station
The number one reason is its easy installation. A chat room should not need a complicated setup in your Internet radio station website. Our infrastructure provide the best of Internet chat platform available today. With an HTML5 technology, we have the most powerful chat technology, you can embed chat in any where you want and it will fit right to the space you allocated.
The most time consuming activity to register to a new service is the registration process. Users will just left the service when they found out the service requires a complicated registration. That will not happen when chat platform has social media integration . Users can login to your chat using their existing Facebook or Twitter account. With more than a billion of users, Facebook is just like an Internet ID for everyone. So, when chat platform is installed in your website or Facebook page, your audiences can join the chat using their Facebook account.
Very simple and easy…
The other important thing is multiplicity.
One distinctive feature of html web chat platform is synced (synchronized) chat room.  Chat for Internet radio can put the same chat room in both web page and Facebook page, and messages posted in different place synced automatically across all chat rooms. This gives wider audience opportunity to chat in a multi channel. With this synced feature, people who go in web page chat room will be able to communicate with those who enter Facebook page chat room, as if they are in the same chat room.
What is Better for Internet Radio Station?
We have to admit there is none better than online dialogue solution for Internet radio station. It is the best way to engage audience in the 12-24 age group than opening multiple channel.  We already know the type of anxiety disorder affecting this age group called FoMO (Fear of Missing Out).
People who struggle with FoMO are wrestling to balance the peer pressure with their self-actualization.  Helping them by giving choice so they can chose something based on their personal preferences is the least radio station can do to help them to chose something on their own, not based on peer-pressure.
With our synced chat, people only see the other people sending chat in the conversation. They will not be able to know whether the other parties are sending message from Facebook page chat or from another website. They can only see that there are other parties participating in the chat room.
This synced chat is also providing great benefit for radio station. They can install the same chat room in multiple places:  Facebook pages, their websites and also their partner website with ease, because knowing all the chat room will be treated as one chat room with html chat platform.
Find out more on our Facebook, Twitter and Google+.