The Internet Trading Revolution
We see how Internet has changed so many aspects of our life. Even now, with the advent of Internet of Things, we will see more of Internet pervasively enter our life. Stocks trading and financial market is also affected by the huge wave of Internet. As we have discussed in the previous articles that Internet has given birth to social trading, where people can follow the top trader with a series of pre-programmed trading instruction or known as algorithmic trading, or with copy trading and mirror trading. We also have discussed how day trading activities become a daily routine and full time job for some people, where they make a living by trading in the financial market.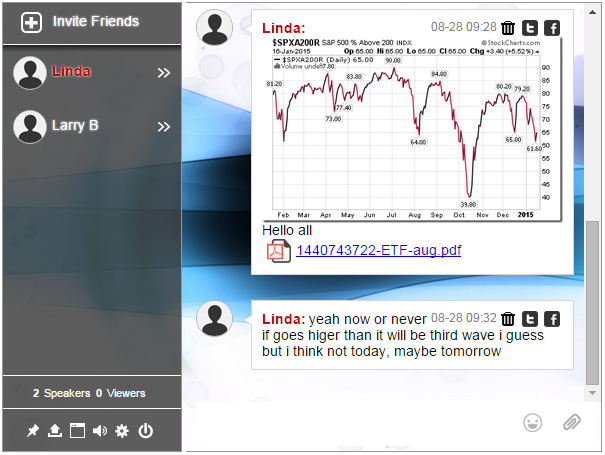 There are so many opportunities and challenges the Internet has offered. All of those phenomenon from algo trading, copy trading, social trading, day trading can be summarized into one term: online stock trading. Previously, stocks trading was only limited by the stock brokers and stock traders who traded in the Stock Exchange. Online stock traders was not something that stock brokers knew before the end of the 20th century. It was until the late 1990's, online stock trading started to offer services to retail customers with their online trading service. Nowadays, online stock trader and their trading activities has become a normal activities in the stock market.
The History of Group Chat for Stocks Traders
With the socialization of stock market and other financial markets, where ordinary people can trade stock online, there are two different perspective. People can see it as either be a negative of positive. It all depends on the perspective of how we see this phenomenon. People who sees online stock trader and ease of access to stock trading will relate to the online stock trading with the story of Joseph Kennedy and Black Tuesday, the stock market crash in October 1929. The worst event in the history of US stock market that made $ 5 billion of market capitalization was lost from New York Stock Exchange in just three days.
Joseph Kennedy survived the market crash because he listened to some shoeshine boys prediction and common people about the potential collapse. He withdrew the stock just a few days before the stock market really crashed, and he managed to save his million dollars profit. Kennedy, whose son became the 35th president of USA, followed the advice of a the shoe shine boys, which was proven true. Based on that testimony, some people see a negative perspective for common people to have access to stock market.
Stocks Trading are for All
While others sees the online stock trading as the opportunity for common people to have access to financial market as well as wealth distribution. The wealth generated by big corporations and enterprises can now be accessed by common people with online trading. A housewife can have a blue chip stock because of the availability of online stock trading.
Both perspective needs a balancing tools to balance the views and create a healthy market. People who have negative perspective of online stock trader need to educate people of stock trading wisely, thus reducing the possibility of loss and market crash. While the positive perspective will have to double check their optimism, because not all people accessing the online stock trading has the good intentions. They have to keep reminding people that although stock market is a promising venture, but it has some potential downsides. Therefore it is essential to remind people to be cautious in online stock trading.
Group Chat for Stocks Traders provides this balancing tools. Whether to educate people of how to invest and become online stock traders, or to remind potential downside, Group Chat for stocks traders is the right tool, because we understand that every parties related to stock market, whether brokers, trading companies to stock exchange authorities, all have the needs to spread information about the right and safest way to invest in online stock trading. Traders Group Chat room provides just exactly what is needed to educate the people and market.
RumbleTalk is a solid web chat platform built using HTML5 latest technology, it has everything online stock trading needs for chat and communication channel. With our superior technology, you can utilize multiple communication method such as:
Upload Charts and Images
Upload Files like pdf files, docs, excel and Other files
Send short Audio message to the group
Sending YouTube and Vimeo video to the chat room

When you conducting a chat with online traders (group chat) visiting your website, it is necessary to be able to attach images, pictures and even charts to the chat room, so you can explain the point more precisely. You are also able to attach documents, excel files, presentations and pdfs directly to the chat room.
RumbleTalk still has more features, to prove that it is entitled to be named the best chat for stocks traders. One of which is the ability to attach the audio message and video in the chat room.
When you have a youtube or vimeo video you want to in the show to the chat room, you can easily do that, just copy and paste the video url and it will show immediately. This is important especially to explain a complex concept such as trading wisely and smart in online stock trading. A video will ease the explanation and understanding of concepts. Then you can have a Q&A session after the video is played to increase understanding and comprehension.
We have explained top of the line features of web chat that RumbleTalk provides. As you can see, communicating and training your traders and people who wants to start online stock trading is very easy with RumbleTalk. You can even create your own podcast with RumbleTalk.