In the Beginning The Chat was Social Sharing Oriented
In the beginning we built RumbleTalk chat room with an advance social sharing features. Private chat room was not in the picture back than. The chat service was all about allowing chatters to engage easily with other chatters and easily invite friends to the conversation. Only latter on we added the option to transform a social chat to a private chat room.
At that time most of our customers used the chat to engage with their communities and were glad that the group chat widget allowed them to invite friends and create a buzz around their topic/event. Many of the companies needed a group chat room for:
Live Radio Shows
Live Events
Open Group discussions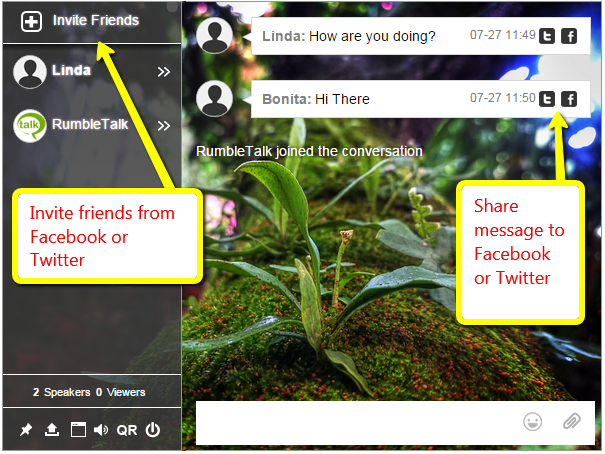 RumbleTalk Social features are divided to three areas.
Allow social media sharing (facebook & twitter) in each message sent.
Allow the users to share parts of the conversation on your facebook & twitter pages
Show "Invite Friends" on the top of the users list.
When enabled, the "Invite Friends" button will be shown and chatters can invite their friends from facebook and twitter.
Enable auto invite
When enabled, a user logging into the chat using Facebook or Twitter will be automatically prompted to invite his/her friends to the chat (From our experience, it generate traffic to your chat / site!).
Private Chat Room – Social Sharing Removal
As time passed, RumbleTalk got matured, featureד were added and there was a new type of request from potential customers. Customers started to request the option to have private chat room, or private event which means to remove social sharing capabilities. These were mainly for:
Social Stocks Trading
Online Support Groups
Education Groups
Private Events
How to transform social chat to a private chat room?
To create a private group chat, one need to disable some group chat features using the admin panel and remove all social sharing features .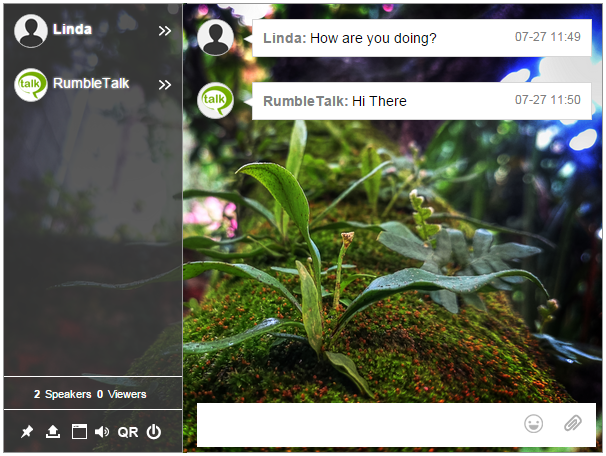 There are the 3 areas where you need to set in your admin panel.
Remove social media sharing icons feature – the 2 black icons of twitter and FB sharing  in each messages.
>> Go to the Chat Settings –> Go to the Login tab –> Un-check the Show "Invite Friends" button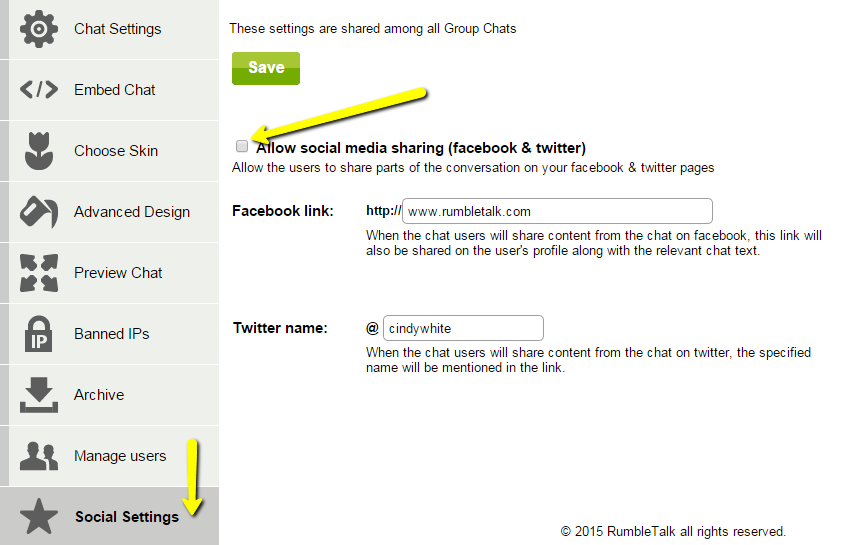 Remove "Invite Friends" feature on the top of the users list, to prevent users from inviting new users.
>> Go to the Chat Settings –> Go to the Login tab –> Un-check the Show "Invite Friends" button
Remove auto invite feature when users login with Facebook or Twitter.
>> Go to the Chat Settings –> Go to the Login tab –> Un-check the "Enable auto Invite"